A collection of acrylic paintings on acrylic sheet (Perspex).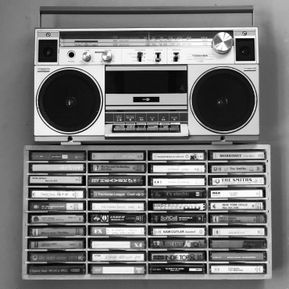 I've been collecting old music cassette tapes, and putting together a nineteen seventies hi-fi system. I wanted to hear my old tapes again. Soon I was enjoying the tactile nature of the switches and buttons, and the look of modernity with the slightly fuzzy coloured lights, brushed aluminium and wood.
There are a lot of pre-recorded tapes still around, some forty years old or more, and sounding as good as ever. If they do sound a bit wonky, I smash them apart and put the tape into a new cassette; and they play just fine. This resilience and capacity to be mended gives me feelings of reassurance and satisfaction. They're familiar to me, and yet discovered anew. I like the qualities of the plastic cases and cassettes. The new ones, fresh from their moulds, have a special newborn feel, before the newness starts to wear off.
The cassette artwork gives some context for the music. The variety seems endless, in contrast to the uniformity of the standardised cases. It's a simple technology, but quite magical when the music starts to play. In some of my paintings I use an aleatory process (using dice or bingo numbers). This generates a random pattern of possible outcomes within an organised pattern, similar to cassettes in storage cases.
J.E.W.