A collection of photographs and a vector drawing, all featuring a disused coal yard near Chesterfield. Made with my Leica M8 rangefinder camera.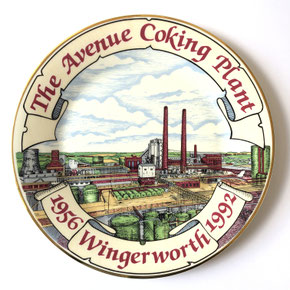 The abandoned coal yard amplifies and echoes the sound of my footsteps on the heavy concrete slabs, which make up a vast unpopulated space; a post-industrial experience of the sublime. There are remnants of machinery, connecting me to my earlier life on the shop-floor.
Before the war on socialism of the 1980s, this place stored thousands of tons of coal, piled up to feed the coking plant next door.
I've an Avenue Coking Plant (1956-1992) commemorative plate - a local charity shop find. It presents a green and pleasant soviet style view of the plant; celebrating a proud era of slide rule engineering and unselfconscious fossil fuel consumption.
I worked there on maintenance jobs a couple of times. I recall a sulphurous netherworld, where an indelible dark black matter soiled everything.
The Avenue Plant's been brownfield-ed, and cleansed with another shit housing estate, and King Arthur Skargill's relegated to the news archive. But for now, the coal yard remains paused; its emptiness a monument to change.
J.E.W.